Wicker Basket for Storage
We got a wide selection of rattan baskets to be offered as ideal storage solutions. They are strong, durable and good for toys, accessories and many more. Wanda Rattan has exported different types of wicker storage basket.
Rectangular or rounded, single or in sets, small or large, natural or colored, with or without handles
; our craftsmen are the experts who can make it available.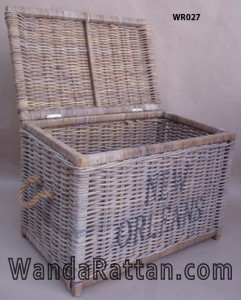 Take a moment to view a small groups from our rattan storage basket displayed on this website. We can assure you that our portfolio is much more than that and we welcome for a new model. If you have your own design of storage basket to be manufactured by us, just let us know.